Submission Instructions
While going through the form, please select whether or not you have hired Laing Development in the past, filling out the information that is presented below based on your answer. To correctly fill in the section for choosing your photos, refer to the link you were sent containing the gallery of your images. Label your choice with the file name, followed by instructions for edits. For example, referring to an image named LaingTaylor-5281.jpg, you would enter:
5281 – Please remove bags from under my eyes and whiten my teeth a little
To view an example of a correctly filled form, click the thumbnail below. If you have any immediate questions, feel free to contact me at the number listed above.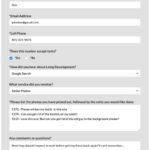 How To Access Your Photos
To view your newly edited photos you must first create an account. Following this, please go into your account details and fill out each field as accurately as possible. Your images will then become available in .zip format in the Downloads tab. Your account is your key to access these images, so it is recommended that you store the password in a secure location to prevent losing access to your account. Should this happen, simply reset your account or submit a request for access.
Login | Create Account
Leave a Review